Vegetarian Delights with Yvonne Fernando
{{hitsCtrl.values.hits}}
9 November 2020 10:43 am
Mango Rice with Vegetarian Chilli Paste
Ingredients:
750g Cooked Basmathi Rice
2 Green Mangoes grated.
50 g Green Peas.
50 g Toore Dhal Fried.
Tempering :
5 tbs Oil.
1 Onion Sliced
3 Sprigs Curry Leaves.
¼ tsp Turmeric Powder.
1 tsp Mustard Seeds.
1 tbs Zensai Vegetarian Chilli Paste.
2 tbs Garlic Chopped.
1 tsp Sugar.
1 tsp Salt.
Heat oil in a deep pan, add mustard seeds, Garlic, Curry Leaves, Onion and fry 1 – 2 minutes. Add grated Mango, Sugar, Salt and Vegetarian Chilli Paste. Mix well add fried Dhal, Rice, and mix together. Lastly add Green Peas, Serve with Zensai Vegetarian Chilli Paste.
Then add garlic, ginger, soy sauce, Pandana juice. Add Bok Choy and rice mix well. Add Fish Sauce.
To make the omelette: 3 eggs mixed with 3 tbs. Pandan juice, 1 tsp corn flour, ¼ tsp. salt and ¼ tsp. pepper.
Mix the above ingredients together, heat a non-stick pan and pour one teaspoon oil and make two omelette rolls and sliced. Serve over the rice.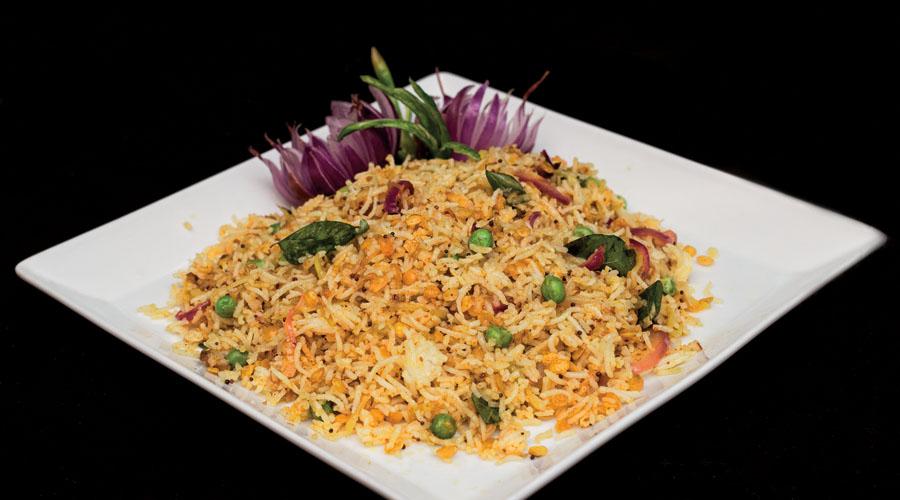 Veg. Devilled Mushrooms
Ingredients:
1 Packet Oyster Mushrooms shredded.
200 g Cauliflower sliced and boiled.
1 onion sliced.
1 Bell Pepper Sliced.
2 tbs Gralic Chopped.
1 tsp Ginger Chopped.
2 tbs Tomatoe Sauce.
1 tbs Zensai Veg. Chilli Paste.
Method:
In to the shredded Mushrooms add Zensai Chilli Paste, ¼ teaspoon Salt, mix together and dust the following ingredients, mix and coat.
4 tbs Rice Flour.
1 tbs Gram Flour.
1 tbs Flour.
1 tsp Chilli Flakes.
¼ tsp Salt.
Deep fry the Mushrooms in hot oil and repeat the same process for the cauliflower. Heat three tablespoons oil in a pan, add chopped Garlic Ginger, and fry for one minute, Add Onions, Bell pepper, Vegetarian Chilli Paste and Tomatoe Sauce, mix well. Lastly mix with fried Mushrooms and Cautiflower.
Please click on the link below to read full article.,