Delicious Dinner Ideas With Yvonne Fernando
{{hitsCtrl.values.hits}}
10 January 2022 02:08 pm
Chicken Wings with Hoisin Sauce
Ingredients:
500g. chicken wings
¼ tsp. pepper
¼ tsp. salt
4 cloves garlic chopped
2 tbs. hoisin sauce
1 tbs. bees honey
4 tbs. oil
1 tbs. sesame oil
Few red chillies sliced
Method:
Marinate the chicken with salt, pepper, garlic, ginger and set aside for 15 minutes. Heat oil in a pan, add marinated chicken wings and fry on low flame for ten minutes. Add hoisin sauce and sesame oil and few red chillies. Serve as a starter or with hot rice.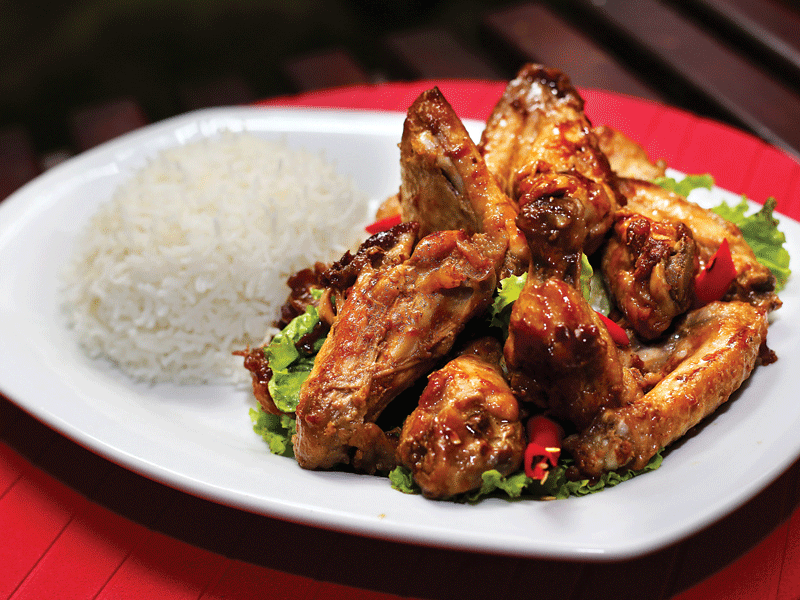 Hot Noodle Soup with Prawns
Ingredients:
400g prawns cleaned
(reaserve the heads and shells)
250g chicken bones
4 pints water
3 tbs. oil,
2 tbs. sesame Oil,
1 tbs. zensai chilli paste
50 g. celery chopped
50g. onions sliced
5 cloves garlic sliced
1 tbs. sugar
½ tbs. black pepper
2 tsp. salt
Method:
Heat oil in pan and add prawn, shells, heads, chicken bones and other ingredients except prawns. Add water, boil the stock for 30 minutes.
Soup Ingredients:
200g. rice noodles boiled
100g. kankun,
100g. bok choy
50g. celery chopped
5 button mushrooms sliced
150 ml. coconut Milk
3 tbs. soy Sauce
1 tsp. salt
3, red chillies cut lengthwise
1 tsp. zensai chilli paste
Method:
Strain the boiled stock. Heat three tablespoons oil, add prawns and sauté; remove prawns from the pan, add stock, bok choy, celery, kamkun, mushrooms, coconut milk, soy sauce, chilli paste, and salt. Stir add boiled noodles. Take off the fire pour into a soup bowl and serve with a teaspoon of chilli paste.
Excited to read more? Get Lanka Woman in Magzter for our latest Digital Issue!
www.magzter.com/.../Lanka.../Women's-Interest/530905
www.lw.lk