Vege Delights With Yvonne Fernando
{{hitsCtrl.values.hits}}
9 May 2022 10:17 am
For Vegetarian Lovers Mango Rice
Ingredients
500g Cooked Basmathi Rice
300g Season Mango peeland grated
100g Cooked Peas
4 Springs Curry Leaves
4 Dry Red Chilies cut into pieces
4 tbs. Vegetable Oil
2 tbs. Mustard Oil
1 tbs. Mustard Seeds
1 tbs. Channa Dhal
1 tbs. White Urad Dhal
1 Onion sliced
1 tsp. Fresh Turmeric ground
3 Green Chillies chopped
3 Pods Garlic sliced
½ tsp. Cardamom and ClovePower
½ inch Piece Ginger chopped
1 tsp. Sugar
1 tsp. Salt
1 Carrot grated
2 Red Chilies sliced
Method:
Heat a Wok, add vegetable oil, mustard oil, mustard seeds, garlic, ginger, cardamom, clove powder, channa dhal, urad dhal and fry for 3-4 minutes. Add curry leaves dry red chilies, ground turmeric, onions and cook for 2-3 minutes. Add mango, salt, sugar and cook for 2-3 minutes. Add carrot, rice and mix well. Add green chilies, red chilies and mix. Serve hot.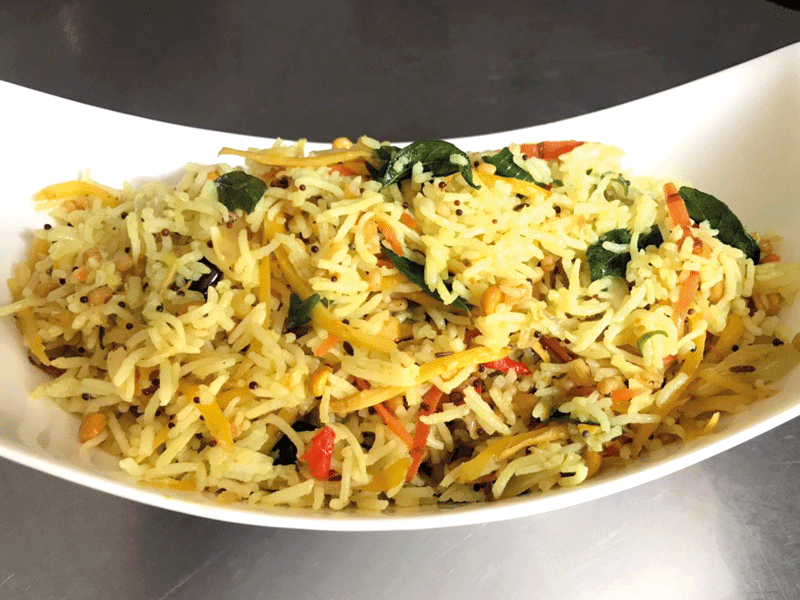 Spinach Fritters
Ingredients
200g Spinach Finely shredded
250g Gram Flour
1 tsp. Baking Powder
¼ tsp. Turmeric Powder
5 tsp. Coriander Leaves chopped
1 tbs. Chilli Flakes
5 Pods Garlic chopped
¾ Cup Water
1 tsp. Salt
Method:
Mix all above ingredients together, adding water gradually to form a thick batter. Set a side for 15 minutes. Heat oil and drop a spoonful of batter into hot oil, cook for 3-4 minutes in batches. Serve with dipping sauce.
Dipping Sauce:
1 Cup Yoghurt
3 ¼ tsp. Chili Powder
2 Pods Garlic Crushed
1 tsp. Chaat Masala
3 tbs. Coriander Leaves chopped
Mix above ingredients together and serve with fritte