Dinner Treats by Yvonne Fernando
{{hitsCtrl.values.hits}}
11 October 2019 10:03 am
Crispy Drumsticks
Ingredients
:
6 Nos. Chicken Drumsticks.
½ tsp. salt
½ tsp Pepper
1 tbs cooking sauce
½ tsp. Dried Rosemary
100g. Potato chips
100g. Cornflakes
1 Egg
2 tbs. Milk
3 tbs. Season flour.
½ Cup. Water.
Oil for deep frying.
Season Flour:-3tbs. flour.
Pinch of salt, pepper and chilli powder.
Method:
Wash and drain the Chicken drumsticks. Season with salt, pepper, cooking sauce. Add water and boil for ten minutes. Dust the seasoned flour over the chicken drumsticks then dip in beaten egg and milk. Crush the cornflakes and potato chips together with a rolling pin. Then press the crushed cornflakes and potato chips on to the chicken drumsticks. Deep fry until golden brown or place on a wire-rack over a baking tray. And bake in a pre-heated oven 200oC for 20-25 minutes, until golden colour. Serve hot.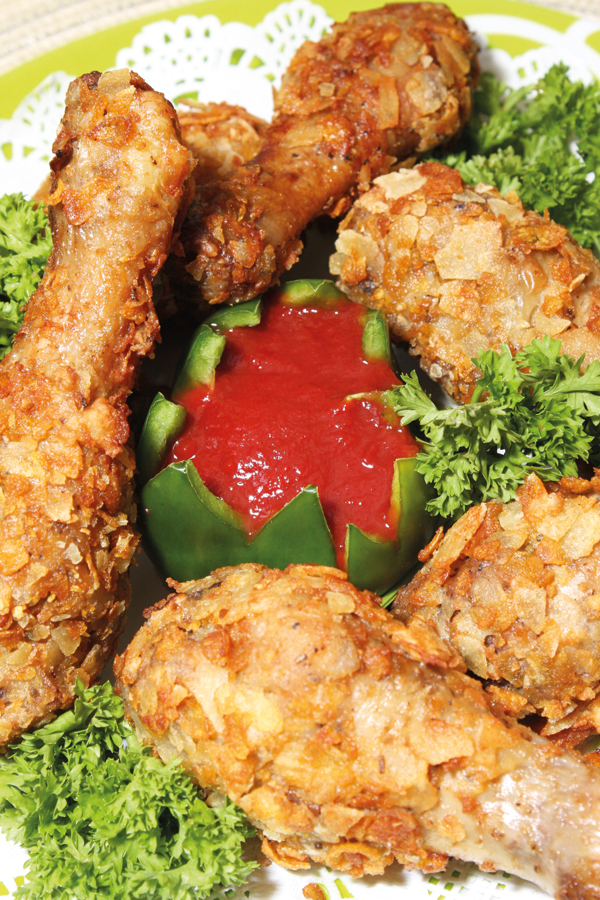 Hot And Spicy Rice Vermicelli
Ingredients
:
250g Minced Pork
1tbs Zensai Chinese Chilli paste
1tbs Dark Soy Sauce
½tsp Chinese Five spice powder
¼tsp Salt
Mix the above ingredients and set a side for 15 minutes.
200g Rice Vermicelli (boiled)
1tbs Sugar
125ml Oil
2tbs Garlic (chopped)
100g Button Mushrooms (sliced)
100g Carrot (grated)
½ Red and ½ Green peppers
cut lengthwise
50g Celery (chopped)
6 Baby Corns cut into angles
100g Leeks (shredded)
100g Chinese Cabbage (sliced)
2tbs Dark Soy sauce
4tbs Oil
1tbs Light soy sauce
Method:
In a wok, heat 6 tablespoons oil, add garlic, marinated pork, sugar and fry for 2-3 minutes. Then take off the fire. Heat 5 tablespoons oil into a clean wok, fry the boiled Vermicelli. Add dark soy, light soy sauce and mix, fry for 2 minutes. Then take off the wok and spread over a plate. In the same wok heat 2 tablespoons oil and stir fry all the vegetables for one minute, then take off the fire. Add prepared pork and mix well. Spread over the rice Vermicelli. Serve hot.